So you want to know which shoes can turn you into a bombshell. Is that what you came here to find out? You think this is going to be about how to buy stripper shoes and what sort of disguise you can wear to go purchase these shoes alongside women named Cinnamon, Candy, and Cookie who are paying all in one dollar bills.
Well then, this is not the article for you. This is about how to become a bombshell and wear shoes that could actually be seen in the light of day in the halls of your office, on the school grounds with your kids, and (dare I say) even in the sanctuary of your church. Your foot does not have to be at a 90-degree angle to transform into a bombshell; you just have to think a little bit more about how your shoes may be perceived by the opposite sex. Don't worry not all of the options will be high heels, you'll also learn what to wear with gladiator sandals.
Option #1: Of course, this article would include a stiletto.
What bombshell does not have a stiletto? An ex-bombshell, that's who. But I don't want this to be all about a stiletto and how it can make your legs look longer and you butt look higher or how even when you put your stiletto foot up on someone's furniture, they don't mind so much because it looks really good. However, I understand that a stiletto is not for everyone. Not everyone wants to run around in stilettos all day, but it is an easy way to add bombshell to almost any outfit. If you are afraid of heights and unsure if you can move gracefully in extra high heels, then you may want to proceed to the next option.
Option #2: A gladiator sandal is full-on bombshell in Xena Warrior Princess style.
These are bombshell options for spring and summer. Something about a lace-up just makes men think about unlacing them, and you'll have them eating out of the bombshell palm of your hands. There are high heel and no-heel options for the gladiator sandal. Wearing a flat gladiator sandal can be just as bombshell, so it is a great option for those of you who are not quite as comfortable teetering in sky-high heels. If you want to know about what to wear with gladiator sandals, just swap them in for any outfit your normally wear with sandals.
Option #3: The thigh-high boot is full-on bombshell.
Julia Roberts almost got kicked out of the Beverly Wilshire in Pretty Woman for wearing these, but they have gotten a classy makeover since then. You don't need to wear these with extra-tight miniskirts like you are working the boulevard. You can now wear them with flowy dresses that end right above your knee, and you can even wear them with tights, leggings, or jeans. The thigh-high boot option can look great as a flat, no-heel riding boot or as a high heel.
These are three great shoe options to transform you into a bombshell and have men falling head over heels: the stiletto, the gladiator sandal, and the thigh-high boots. There are so many options of what to wear with gladiator sandals – You can watch this video. So keep the stripper shoes where they belong…in the bedroom…or in your exercise strip tease class where you slipped down the pole and got a bruise on your forearm. Shame: 1, Dignity: 0!
♥ AJ
————————————————————————————————————————————————
Take the Style Sorority oath! Click here.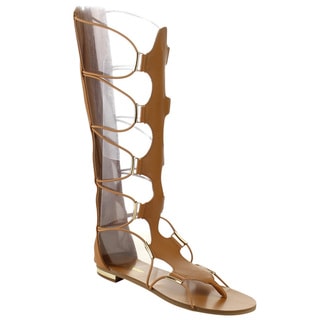 SaveSave